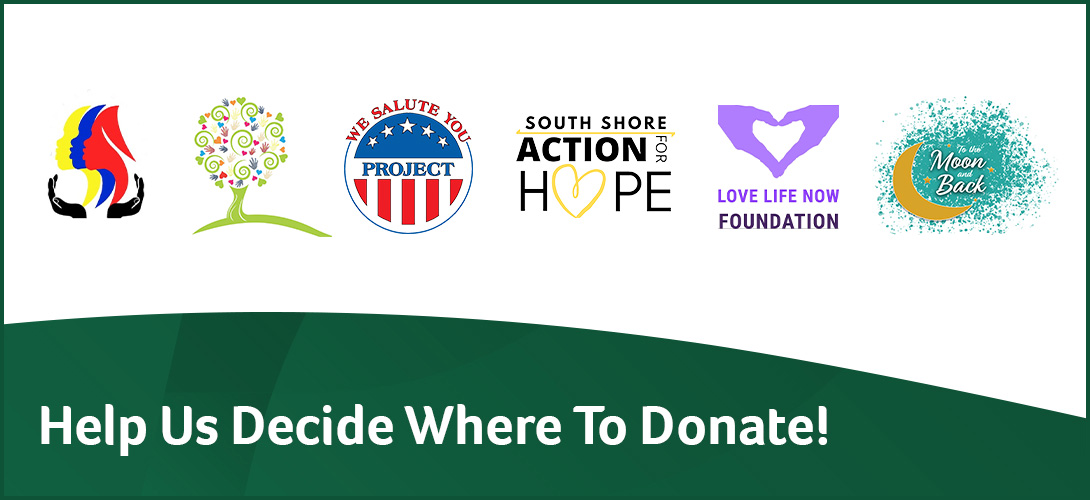 9th Community Voting Campaign
North Easton Savings Banks is proud to announce another opportunity for the community to dictate where support is directed. The Bank encourages their customers and community members to vote for one of six selected local organizations, each nominated by their supporters and volunteers. On December 9th, the votes will be tallied with a correlating percentage of $5,000 distributed to each organization.
Click here to cast your vote.
Beneficiaries of the eighth campaign include:
This campaign begins on October 24, 2022 and runs through December 9, 2022.
As a community partner dedicated to investing locally, North Easton Savings Bank has previously run eight similar campaigns supporting their local communities. Past campaigns and winners are highlighted below:
Campaign #1
Taunton Area Community Table
Coaching4Change
The Literacy Center
West Side Benevolent Circle
Plymouth Area Coalition
Easton Wings of Hope
Campaign #2
We Do Care
Plymouth Task Force to End Homelessness
School on Wheels Massachusetts
Brockton Neighborhood Health Center
Community VNA
Nathan Hale Foundation and Three Harts Farm
Campaign #3
Animal Protection Center of Southeastern Massachusetts
Shane Gives Thanks, Inc. Food Pantry
MassHire Greater Brockton YouthWorks
Habitat for Humanity of Greater Plymouth
Sunshine Farm Sanctuary
Attleboro Area School to Career Partnership
Campaign #4
Winslow Farms Animal Awareness
New Hope
Hugs for Mito
Halifax VFW
NeighborWorks Housing Solutions
South Shore Community Action Council
Campaign #5
Smokey Chestnut Farm
The Arc of Bristol County
P3 Foundation
Natural Resources of Easton
Heidrea for Heroes
Campaign #6
Massachusetts Vest-a-Dog, Inc.
Soule Homestead Education Center
Learn to Cope
Guardians of the Streets
Boys and Girls Club of Plymouth
Whitman Council on Aging
Campaign #7
Annie's Kindness Blankets
Girls Inc. of Taunton
KodeConnect, Inc.
Oddball Foundation
Plymouth Area Coalition
Sustainable Impact & Food Rescue Group
Campaign #8
Shane Gives Thanks Food Pantry
Plymouth Center for the Arts
Norton Historical Society
Ames Free Library
Hope Floats Healing & Wellness Center
Plymouth Education Fund