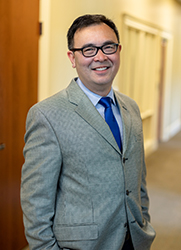 Why an engineer like myself wanted to become a loan officer? It seems like it's always the first question people ask me. Well, it is strange to everyone especially to the people who don't know me. However, when people get to know me, it's no surprise. I am a people person. I like to chat with people (even if they're strangers to me) and I like real estate transactions. I have done a few dozen real estate purchases/sales in my life and I enjoy it.
I like helping people achieve the goal of homeownership and overcoming barriers such as language and knowledge of lending products. I utilize my bilingual skills (Mandarin and Cantonese) to help these customers. I am very patient and assist every borrower through each phase of the loan application process.
I currently live in East Walpole, MA but I was born in mainland China, went to Hong Kong, and eventually migrated to the United States when I was 16 years old. I have been a US citizen since 1990.
I worked for about 20+ years as a hardware engineer for Raytheon, EMC, and AMD. Starting in 2018, I worked for a mortgage company called FBC, and then I worked as an assistant VP for Hingham Saving Bank since 2019. I hold both a BSEE and MSEE from Northeastern University at Boston, MA.
I have had my MA LO license since 2018 and I recently received a Certified Originator designation (XCO) from Xinnix. I am a member of AREAA and IEEE.
As a loan officer, I am determined to put forward my best effort to help you answer your mortgage questions, update your loan status and guide you through the entire loan process smoothly and enjoyably. Please call me at 781-775-4701, add my weChat: samho9929 or email: sho@NorthEastonSavingsBank.com.

Prequalification

Purchase

Refinance

Home Equity

Home Equity Loan