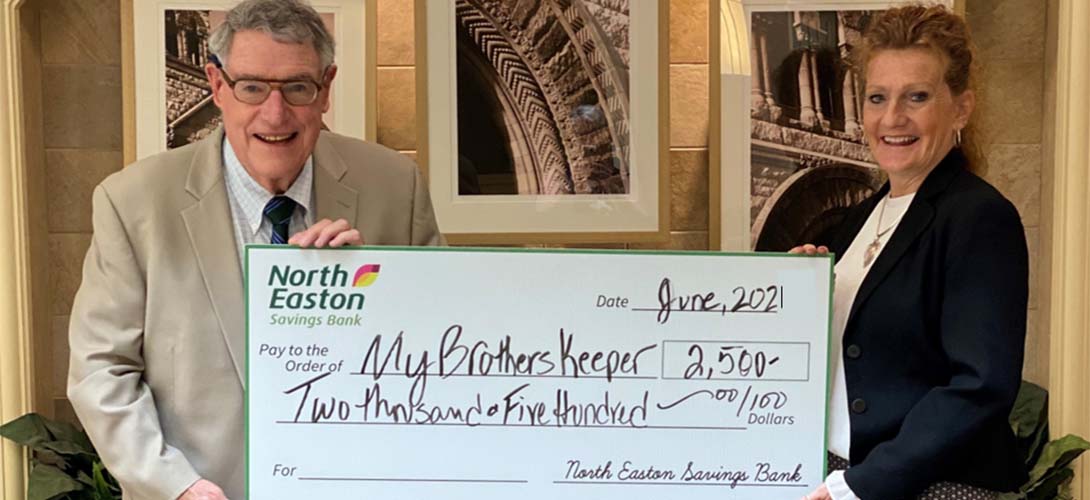 North Easton Savings Bank makes contribution on behalf of recently retired Trustee, Larry Noonan
Celebrating more than 20 years of service, Larry Noonan recently retired from the Board. In honor of his unwavering support of the Bank and this local area, a donation of $2,500 has been made to My Brother's Keeper, an organization near and dear to Larry's heart.
"I am so grateful to North Easton Savings Bank for this generous contribution on my behalf to an organization that is dedicated to assisting people in our communities who are going through difficult financial times," said Noonan, who served on the bank's Board of Directors from 2001 to 2021.
My Brother's Keeper in Easton, an organization that Noonan has championed and been involved with for many years, is a welcoming Christian ministry that delivers food and furniture to families in need. The impactful organization has two locations, one in Easton MA and the other located in Dartmouth MA.
"Larry has been an integral member of our board, his wisdom and input will certainly be missed," said Rich Spencer, president and CEO of North Easton Savings Bank. "It is only fitting that we express our gratitude for all his hard work over the years with a donation to an organization that means so much to him and our local community."