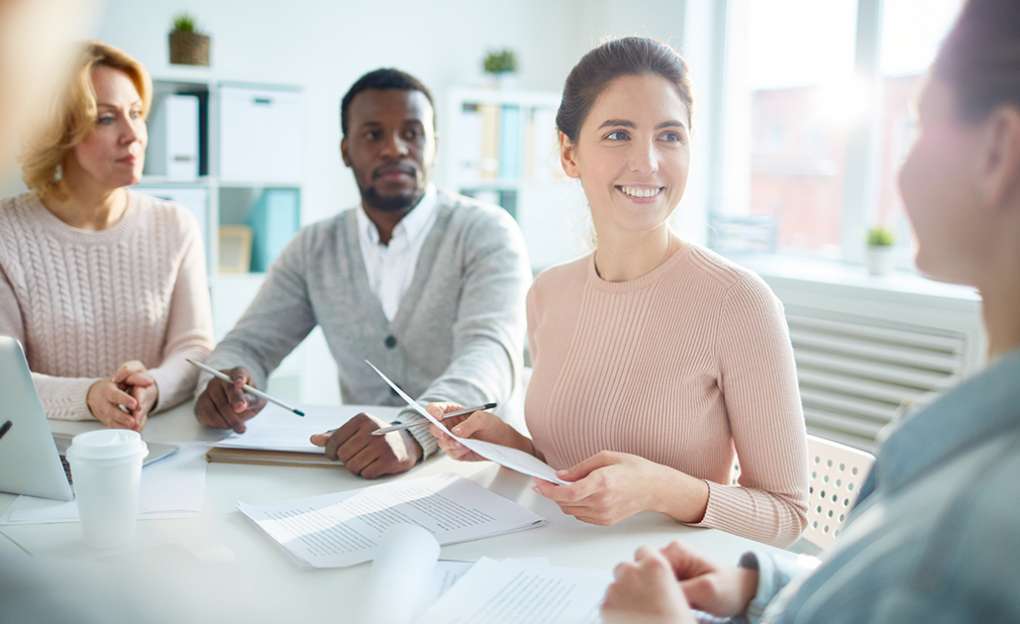 Some of the benefits we offer are:
Medical
Dental
Vision
Flexible Spending Accounts-Health Care & Dependent Care
401(k) Pre-tax & Roth options
Earned Vacation, Personal, & Sick Time
10 paid Holidays
Life Insurance
Short-term & Long-term Disability
Tuition Reimbursement & Professional Development
Paid Volunteer Time Off
Employee Recognition Programs
Business Travel Accident Insurance
Employee Assistance Program
North Easton Savings Bank Values
Teamwork
Count on a team that combines diverse backgrounds and skills to offer the best banking services imaginable.
Personal Accountability
Turning mistakes into learning experiences and problems into solutions is what makes a North Easton Savings Bank team member succeed, and continue to grow.
Embracing Change
As a small bank, it is crucial to stay one step ahead of the constant changes in our industry – and toe-to-toe with the big box banks.
Workplace Diversity
The North Easton Savings Bank team is full of varied perspectives and backgrounds, but all share a common goal to help our customers thrive.
Position Summary
With the direction of the IT Manager, the IT Network Security Engineer is charged with supporting the Information Technology Department infrastructure, technology implementations, technical escalations and other technology initiatives as assigned by IT Management.
Essential Job Functions/Responsibilities
The essential functions include, but are not limited to the following:
Responsible for network technology planning, design, implementation, troubleshooting, and operational support for (20+) sites and remote employees.
Engineering and administration of core foundational infrastructure: LAN/WAN/WLAN, Internet, routing, switching, security (firewalls), SDWAN.
Management and support of Network Security Services including SIEM, network monitoring, investigations of security alerts, and incident response procedures.
Implement and support technology systems in both the on-premises data center, as well as cloud-based platforms including Azure and AWS.
Life cycle planning for future technology initiatives for the bank.
Work closely with the IT Manager, IT resources, internal business users and external vendors, working in a collaborative manner to ensure that end user escalations are fully addressed.
Minimum Qualifications (Education/Knowledge, Skills, and Abilities)
To perform this job successfully, an individual must be able to perform each essential duty satisfactorily. The requirements listed below are representative of the knowledge, skill, and/or ability required to fulfill this position.
Incumbent/candidate must have excellent verbal and written communication skills and be able to work with individuals at all levels within and outside of the organization.
A minimum of 8 years of Information Technology experience, and 4 years in a lead role or engineering consulting role.
Must possess solid, working understanding of network design concepts, including implementation/migration of routing protocols, layer 2/3 fault tolerance design, as well as secure networking technologies and concepts.
Experience with network engineering, including design, implementation, security, optimization, monitoring and troubleshooting of LAN, WAN, WLAN, and SDWAN networks.
Demonstrated knowledge of security technologies and procedures including firewalls, IDS/IPS, DLP, vulnerability scanning and management, malware/virus prevention, SIEM / logging, security groups and network segmentation, system hardening, and incident response.
Proficient with server and desktop virtualization technologies including vSphere ESXI.
Strong understanding of Azure AD and Office 365.
Analytical and problem-solving skills.
Ability to create high level technical documentation.
Strong attention to detail and methodical approach to trouble shooting technical issues.
EDUCATION and/or EXPERIENCE
Bachelor's degree (B. A.) from an accredited college or university in Management Information Systems, Computer Science, Information Technology, and/or equivalent work experience.
Position Summary
Responsible for processing all residential and equity product applications. Works closely with the loan officers, branch personnel, underwriter, and applicable third-party vendors to ensure the Bank provides the best possible levels of service to its customers in this process.
Essential Job Functions/Responsibilities
The essential functions include, but are not limited to the following:
Obtain and analyze information necessary to process mortgage applications including, but not limited to, calculation of income, asset verification and any other pertinent information.
Daily pipeline management with a focus on meeting rate lock expirations, mortgage commitments, department turnaround times and communication standards.
Coordinates, assembles, processes, verifies all information and updates the information in the loan origination system for all loan applications.
Works with customers to obtain any documents and other conditions required to process the application.
Obtains: credit reports, flood determination, private mortgage insurance, and performs a lien search using the Warren Group.
Mails or emails the Loan Estimate and other disclosures to all borrowers for signing and maintains communication with the customers throughout the process.
Processes credit card or check payments for all appraisal orders.
Orders and tracks all appraisals through the appraisal management company.
Orders Automated Value Model and interfaces with Warren Group to obtain a value for all Home Equity Loans and Lines to determine the best estimated value of property.
Upon receiving appraisal, updates loan origination system, disseminates a copy of the appraisal to the customer and uploads the appraisal to the Uniform Appraisal Dataset (UAD) website.
Prepares the HMDA worksheet for the file on all loans when applicable.
Orders title work on all first purchase and refinance transactions.
Maintain knowledge of available loan products, processing procedures and underwriting guidelines.
Pre-underwrites files prior to submitting to the underwriter.
Minimum Qualifications (Education/Knowledge, Skills, & Abilities)
(2) Two to (4) four years of residential lending experience.
Strong background delivering an excellent customer experience to internal and external customers.
Experience in FNMA/FHLMC/FHA/VA programs and underwriting guidelines, as well as those of other conventional investors, state/local bond programs and private mortgage insurers.
Knowledge of federal lending regulations and state laws governing real estate lending to include: TRID, RESPA, TILA, ECOA, HMDA, FCRA, FACTA, and UDAAP.
Excellent organizational and time management skills.
Demonstrated teamwork and customer service skills and ability to effectively counsel customers.
Intermediate knowledge of Microsoft Excel, Word, Outlook, and prior experience using a loan origination system.
Education Requirements
Bachelor's degree (B. A.) from an accredited college preferred, and/or equivalent work experience.
How to Apply
We are committed to connecting with great candidates so we can work together and foster great professionals in our community.
If you share our values of building a strong community through hard work and dedication, we welcome you to email your cover letter and resume to careers@northeastonsavingsbank.com.
You can also drop it off at one of our many convenient locations.
North Easton Savings Bank provides equal employment opportunities to all employees and applicants for employment and prohibits discrimination and harassment of any type without regard to race, color, religion, age, sex, national origin, disability status, genetics, protected veteran status, sexual orientation, gender identity or expression, or any other characteristic protected by federal, state, or local laws.