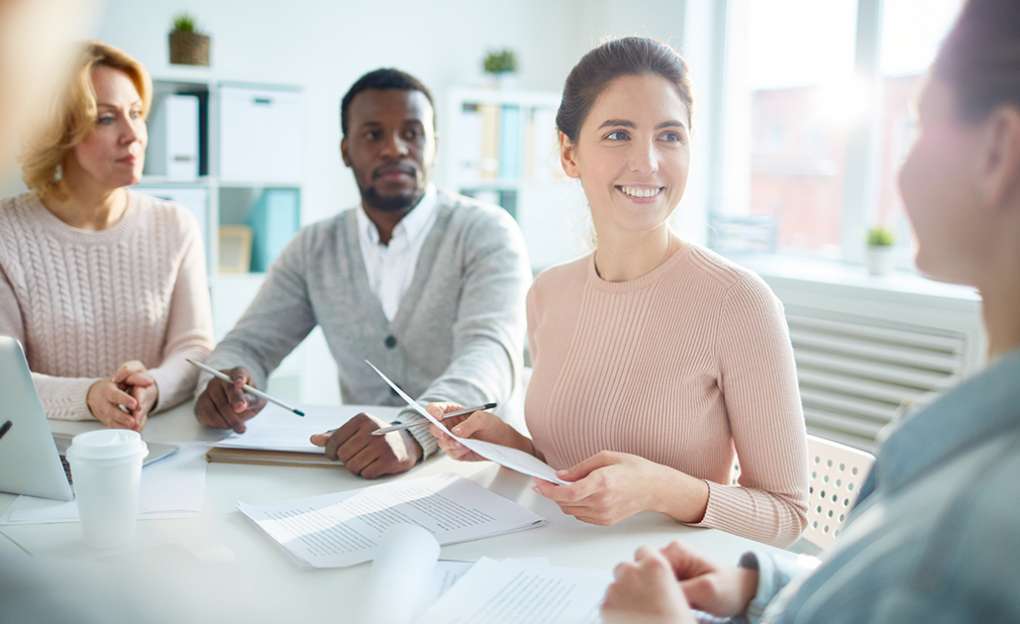 Some of the benefits we offer are:
Medical
Dental
Vision
Flexible Spending Accounts-Health Care & Dependent Care
401(k) Pre-tax & Roth options
Earned Vacation, Personal, & Sick Time
10 paid Holidays
Life Insurance
Short-term & Long-term Disability
Tuition Reimbursement & Professional Development
Paid Volunteer Time Off
Employee Recognition Programs
Business Travel Accident Insurance
Employee Assistance Program
North Easton Savings Bank Values
Teamwork
Count on a team that combines diverse backgrounds and skills to offer the best banking services imaginable.
Personal Accountability
Turning mistakes into learning experiences and problems into solutions is what makes a North Easton Savings Bank team member succeed, and continue to grow.
Embracing Change
As a small bank, it is crucial to stay one step ahead of the constant changes in our industry – and toe-to-toe with the big box banks.
Workplace Diversity
The North Easton Savings Bank team is full of varied perspectives and backgrounds, but all share a common goal to help our customers thrive.
We are seeking a highly motivated Head Teller to join our team. This person will be responsible for performing banking activities within established Bank policies and procedures.
Essential Job Functions/Responsibilities
The essential functions include, but are not limited to the following:
Oversees tellers performing routine financial transactions.
Daily balancing/settlement of cash drawer.
Assists with the opening/closing/settlement of branch.
Assists in the settlement of ATM; coin machine and night depository.
Coordinates the shipment of currency as applied to S.O.P.'s of the Bank.
Conducts training for new tellers.
Assists in conducting monthly audits as stated in S.O.P.'s of the Bank.
Assists in the opening and cross selling of products/services of the Bank.
Answers telephones.
Initiates and refers internal/external sales and referral opportunities.
Attends scheduled meetings.
Participates in Saturday rotation.
May assume coordination of branch office operations during opening/closing process and/or temporary absences of the branch manager and/or assistant branch manager.
Other duties assigned or required.
Minimum Qualifications (Education/Knowledge, Skills, & Abilities)
High school diploma or equivalent.
Cash handling experience.
Strong communication, interpersonal and sales skills.
Minimum of (1) one to (2) two years' teller experience.
Position Summary
Assists the BSA Officer in maintaining compliance with all applicable banking laws, regulations, and rulings, as well as bank policies and procedures, as it relates to BSA, AML, OFAC. Member of the Risk Department supporting all areas of Risk on an as needed basis.
Essential Job Functions/Responsibilities
The essential functions include, but are not limited to the following:
Assists with developing, implementing, and administering all aspects of the Bank Secrecy Act/AML program.
Creates BSA monitoring daily reports.
Reviews customer transactions to identify possible suspicious activities.
Files Currency Transaction Reports and Suspicious Activity Reports.
Assists with various quality control reviews and monitoring in the following areas using industry standard and regulatory guidance sampling methods to ensure the bank's compliance efforts are maintained on a daily basis for BSA, USA Patriot Act, OFAC, and Customer Identification Program.
Assists with outside auditor and/or examiners in the performance of examinations and special projects as needed.
Attends training necessary to become a subject matter expert and to stay up to date with current BSA regulations and changes that are made to the regulations.
Responsible for making suggestions to improve branch/departmental operations and overall bank as it relates to BSA.
Complies with all applicable Federal and State regulations and guidance associated with the BSA responsibilities.
Provides guidance to staff in order complete suspicious investigations.
Performs other duties and assignments within the bank as needed upon request.
Receives and provides to staff periodic cross training.
Minimum Qualifications (Education/Knowledge, Skills, & Abilities)
2-5 years banking and administrative experience required.
Knowledge of BSA, AML, OFAC and Patriots Act.
Knowledge of the core processing system and reports.
Knowledge of Microsoft Office products.
Knowledge of Verafin BSA/AML Software.

Education Requirements
High school diploma (or equivalent).
Position Summary
We are looking for an experienced accounting professional to oversee day to day accounting operations and lead accounting department projects.
The assistant controller will combine excellent analytical skills with a thorough knowledge of accounting principles to support the Controller and ensure Accounting Department tasks are completed timely and accurately in accordance with established Bank policies and procedures.
Essential Job Functions/Responsibilities
The essential functions include, but are not limited to the following:
Assists with preparation of monthly, quarterly, and year-end financial reporting.
Assists with coordination of budget process.
Assists with preparation for internal and external audits as well as regulatory exams.
Assist in monthly recording of investment transactions in investment software.
Prepare or reviews various monthly general ledger account reconciliations.
Works to identify and correct unreconciled differences as they may be identified through the GL reconciliation process.
Coordinates with other departments to improve consistency and accuracy of posted transactions.
Uses accounting software to maintain records and prepare reports.
Delegates accounting tasks to junior accounting staff and oversees their development and productivity.
Develop and document business processes and accounting policies to maintain and strengthen internal controls.
Coordinates with and prepares reports for Controller and CFO.
Contributes to team efforts by accomplishing related tasks as needed.
Minimum Qualifications (Education/Knowledge, Skills, and Abilities)
Strong analytical and problem-solving skills
Highly skilled in math, accounting, and financial processes
Excellent communication and interpersonal skills
Detail oriented and highly organized
Oracle experience strongly preferred
3-5 years of management experience required
Skilled in time management and the ability to prioritize tasks
Excellent critical thinking skills
Solid understanding of GAAP and applicable regulations
Proficient in Microsoft Applications
Bachelor's degree in accounting, finance, or related field
At least 5 years' experience in accounting
Banking experience preferred
Experience working with internal controls in a SOX or FDICIA environment.
Position Summary
The Information Security Officer is responsible for safeguarding information by seeing that security risks are identified, assessed, and accurately reported. The ISO is charged with ensuring procedures and activities comply with internal policies and regulatory requirements, guidelines, and standards. Working with Information Technology and other business units to ensure the bank meets information security regulatory standards and guidance by providing an advisory services role and acting as the focal point for security compliance related activities and responsibilities.
Essential Job Functions/Responsibilities
The essential functions include, but are not limited to the following:
Creates information security strategies, both short-term and long-range, to protect all information assets and mitigate risks in support of the organization's strategic goals.
Directs an ongoing, proactive risk assessment program for all new and existing systems and remains familiar with business processes so effective controls can be put in place for areas presenting information security risk.
Responsible for the development, implementation, and maintenance of the organization's information security and cybersecurity programs, policies and procedures.
Provide strategic and tactical security guidance for proposed projects, including evaluation and recommendation of technical controls.
Oversee incident response planning as well as the investigation of security breaches and assist with disciplinary and legal matters associated with such breaches, as necessary.
Deliver services that meet regulatory specifications. Work with internal and external auditors to document and confirm that all security administrative duties are properly performed as well as demonstrate overall compliance.
Develops information security awareness training programs, and works with BPHC departments, bureaus and programs to present them to staff as appropriate.
Maintain awareness of and ensure Bank compliance with the regulatory environment, including monitoring new developments in Federal and State regulations applying to data privacy, the protection of consumer information and cybersecurity.
Minimum Qualifications (Education/Knowledge, Skills, and Abilities)
To perform this job successfully, an individual must be able to perform each essential duty satisfactorily. The requirements listed below are representative of the knowledge, skill, and/or ability required to fulfill this position.
Minimum 8 years of experience working with IT operations, information security, or IT/regulatory risk management preferably in a bank setting.
Certifications within information and cyber security such as CISSP, CISM, CISA, CCNE, SANS, GIAC, etc. are a plus.
Demonstrated understanding of the regulatory and audit requirements with respect to information security and privacy issues.
Demonstrated knowledge of networks technologies (protocols, design concepts, access control), design, engineering, and security.
Demonstrated knowledge of security technologies (encryption, data protection, design and privilege access).
Knowledge of modern network switching and access control technologies including traditional and next generation firewalls, IDS, wireless networking, and techniques for managing and hardening these devices.
Must have exceptional interpersonal, analytical, and problem-solving skills.
Must possess strong project management and leadership aptitude; demonstrated professionalism in managing multiple projects and resources effectively.
Should have experience with business continuity planning, auditing, and risk management, as well as contract and vendor negotiation.
Effective communication skills, both verbal and written.
EDUCATION and/or EXPERIENCE
A Bachelor's degree required, preferably in an IT related field such as computer science/information technology or networking.
How to Apply
We are committed to connecting with great candidates so we can work together and foster great professionals in our community.
If you share our values of building a strong community through hard work and dedication, we welcome you to email your cover letter and resume to careers@northeastonsavingsbank.com.
You can also drop it off at one of our many convenient locations.
North Easton Savings Bank provides equal employment opportunities to all employees and applicants for employment and prohibits discrimination and harassment of any type without regard to race, color, religion, age, sex, national origin, disability status, genetics, protected veteran status, sexual orientation, gender identity or expression, or any other characteristic protected by federal, state, or local laws.