Schedule an appointment at your local banking center.
Pays Interest
Earn interest on every dollar in your account with NESB Checking. With no minimum balance requirements or activity thresholds, your account will always be earning interest on its deposits.
Every ATM is YOUR ATM
Need cash? Anywhere you are in the United States, simply use the most convenient machine and we will automatically reimburse you whatever fee the ATM charges. This essentially makes every ATM in the country your ATM.
International Buying Power of Debit Mastercard®
Accepted everywhere, our Debit Mastercard® provides access to purchase rewards, Zero Liability Coverage, ATMs, and mobile card controls. Need a new card? We have those instantly at every branch.
No Monthly Fees or Minimum Requirements
As a true community bank, we act in the best interest of our customers. When it comes to checking, that means offering the very best without any monthly account fees, minimum balance requirements, or arcane activity mandates.
Local Focus, Global Convenience
Gone are the days of needing to use one of the fee-riddled big banks if you wanted to have global access to your finances. Now, with North Easton Savings Bank and NESB Checking, you can enjoy instant access to your money no matter where you are. It really represents the best of both worlds: Locally based investments, globally accessible platforms.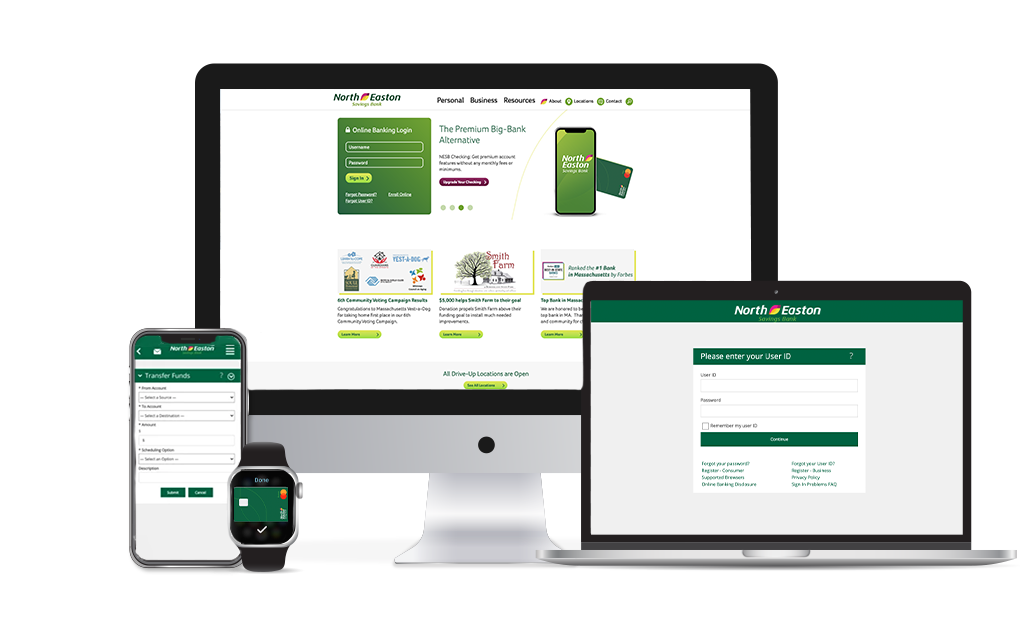 NESB Checking Quick Facts
No monthly account fees
No minimum balance requirements
Debit Mastercard® with uChoose Purchase Rewards
Unlimited ATM fee reimbursements at every ATM in the United States
Pays interest on every dollar
Mobile Banking with biometric login
Digital Banking platforms include bill pay, transfers, and mobile deposit
Access to the Budgeting & Spending module
Compatible with Apple Pay, Google Pay, Samsung Pay, Venmo, and PayPal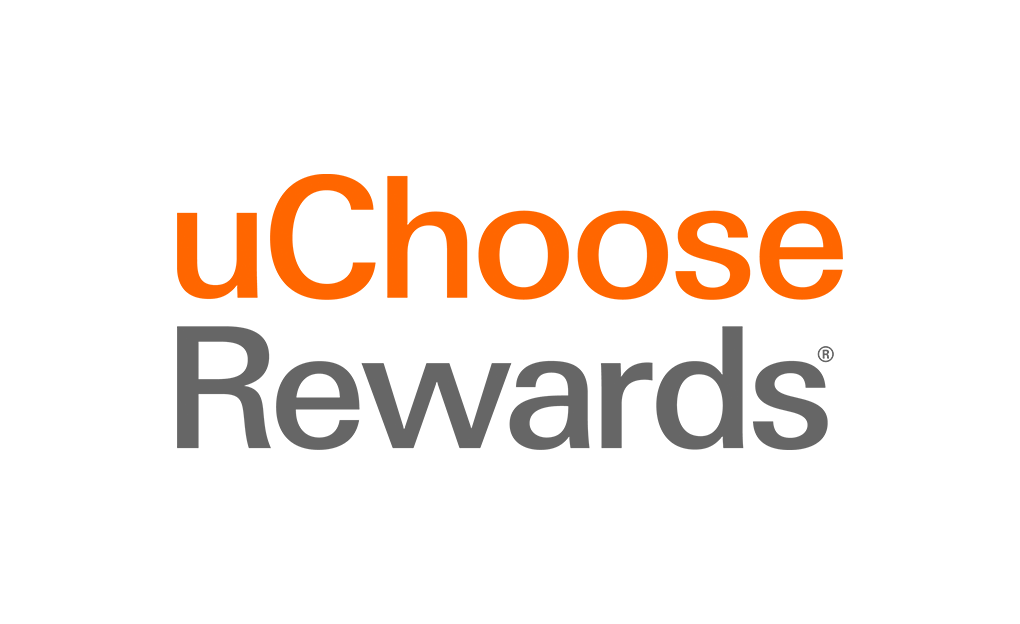 uChoose Purchase Rewards
Gift cards, premium merchandise, travel experiences, concert tickets, and much more are available just by using your debit card. Simply sign up by visiting uChooseRewards.com and start immediately earning reward points.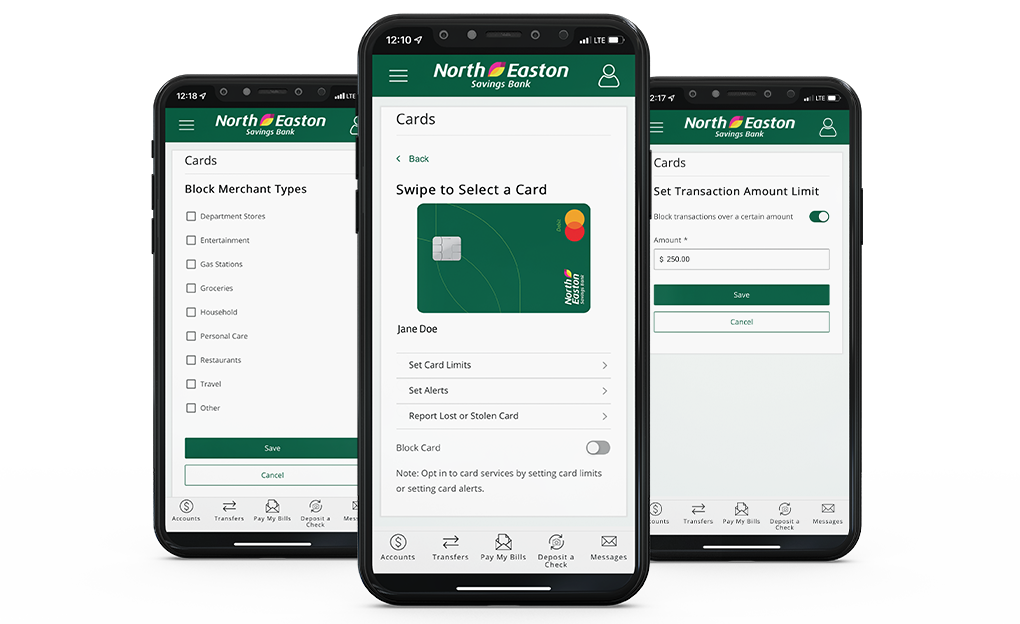 Debit Card Controls
Our mobile app provides complete control by allowing/blocking transactions by purchase type, merchant category, region (international/domestic), and transaction amount. Additionally, you can set customized purchase activity alerts and turn your card on or off as it suits you.
NESB Mobile Wallets
Easily streamline how you make purchases online, in-store, and when using mobile apps by linking your NESB Debit Card to either Apple Pay, Google Pay, and/or Samsung Pay. In addition to being extremely convenient, our mobile wallet integration is also a safe and secure payment platform.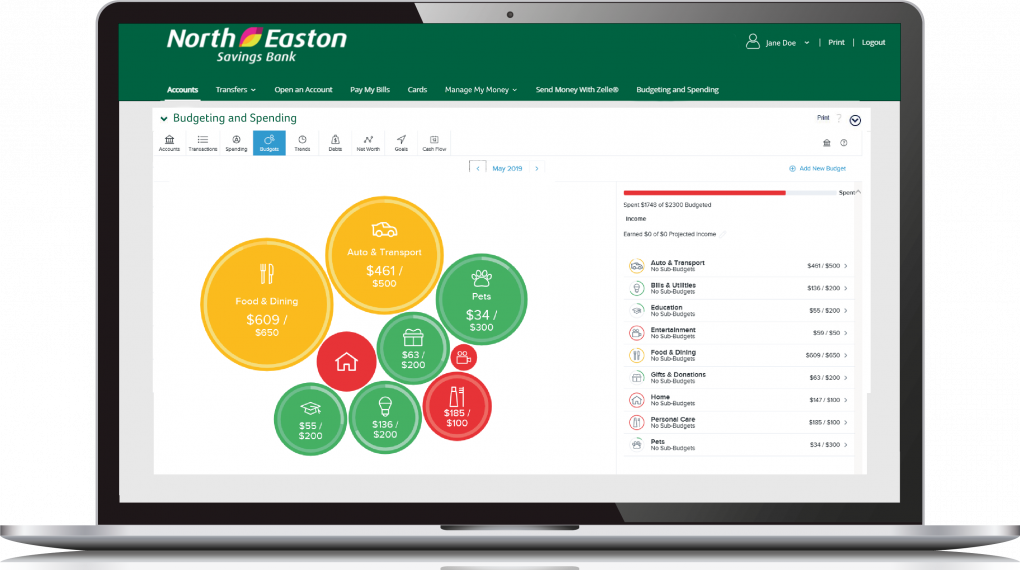 Budgeting & Spending Tool
Our free Budgeting & Spending tool allows you to connect all your accounts from any bank in one convenient online portal, so you can view your balances, track your spending, and maintain your budget.