Down Payment Assistance Program Benefits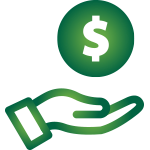 Up to $25,000 in down payment assistance

Lender-paid closing costs or a closing cost credit
Unlimited personal assistance from a local lending partner
Down Payment Assistance Program
For 2022, the Bank has allocated $500,000 of its own funds to the Down Payment Assistance Program to provide qualified borrowers up to $25,000 in down payment assistance towards purchasing a home. Borrowers may also benefit from lender-paid closing costs or a closing cost credit depending on their income levels and correlating credit score.
To qualify for down payment assistance, you need to be purchasing a home within the Bank's assessment area, meet the minimum credit score qualifications, and not exceed the income threshold.
Connect with our experts to learn more about your options and how to qualify.