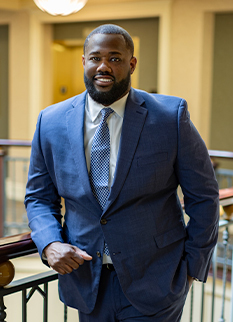 Jeffrey (Jeff) Charnel, Vice President and Commercial Lender, joined Mutual Bank in 2017 as a Commercial Lender and has been with North Easton Savings Bank since the merger in 2019. He has over 16 years of experience serving at both commercial and community banks.
Jeff is a lifelong resident of Brockton and graduated from Brockton High School in 2005. He furthered his education by attending Newbury College in 2010 and is currently enrolled in the class of 2023 at The New England School for Financials, Massachusetts Bankers Association Banking School.
As an active supporter in his local community, Jeff has served on Brockton's Zoning Board of Appeals, School on Wheels of Massachusetts, and the Greater Brockton Young Professionals to which he is now an honorary Board member. After being appointed by Mayor Robert F. Sullivan, Jeff currently serves as a member of the City of Brockton's License Commission as Chairman. He also serves on the Old Colony YMCA Brockton Board of Governors, NeighborWorks Housing Solutions Board of Directors, is a Loan Committee Member on the Dorchester Bay Economic Development Corporation, and President-elect of the Brockton Rotary Club. Jeff was also recognized by the New England Real Estate Journal as a "2022 Ones to Watch."
Jeff is proud of the city that raised him and continues to reside in the City of Champions. In his spare time, he enjoys spending quality time with family and friends, traveling, watching football/basketball, and playing golf. He covers the greater Brockton area and can be found at the 295 Main Street office in Easton.