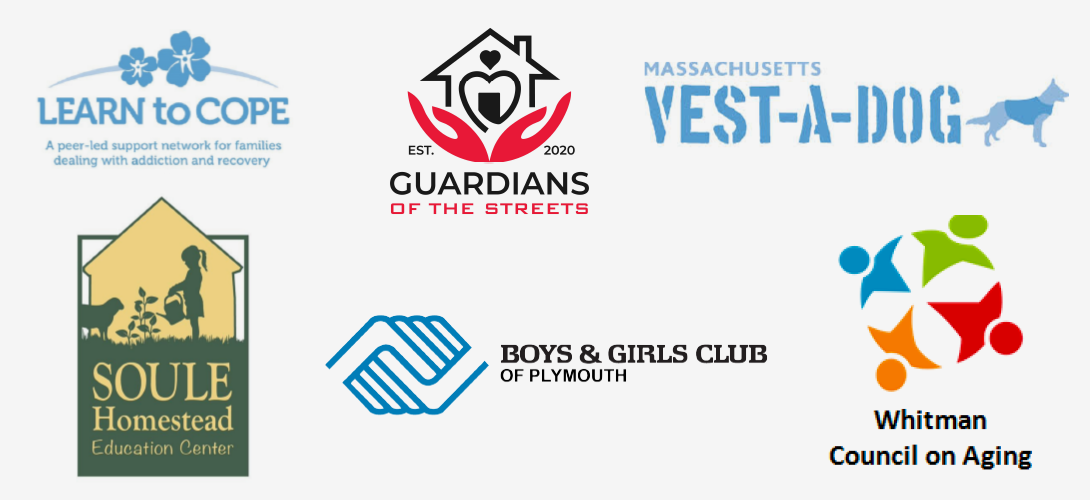 6th Community Voting Campaign Results
Massachusetts Vest-aDog, Inc. secured top honors in our 6th Community Voting Campaign. We want to thank the over 4,000 local residents who voted in support of all six of the well deserving organizations. $5,000 will be split amongst the participants by percentage of total votes received. Please view the list below and support our non profit organizations as well as those in your community that matter most to you and your family.
6th Community Voting Campaign results in order of votes:
Massachusetts Vest-a-Dog, Inc. – Is an all-volunteer, non-profit organization is dedicated to providing support for Massachusetts Police Dogs– helping provide bulletproof K-9 vests, essential equipment, funding for training, and dogs for police and law enforcement programs throughout the state. Because of the tireless work of volunteers and supporters, Vest-a-Dog is proud to have provided over 570 vests and kanine security to law enforcement in our communities
Soule Homestaed Education Center – This non-profit organization is driven by the energy of hundreds of volunteers with a mission to spread the message that our actions have impact. Soule Homestead Education Center provides educational programs that promote organic farming, gardening, traditional arts and crafts, food preservation, wood carving, agriculture, ecology, local history, and endless opportunities for exploration of all living things.
Learn to Cope – A non-profit peer-led support network collaborating with communities across the state spreading messages of prevention, education, awareness and advocacy for individuals and families suffering with addiction. Learn to Cope, in collaboration with MADPH, became the first parent network nationwide to provide the overdose reversal antidote nasal naloxone. The life saving education and medication that LTC members receive has successfully reversed over 200 opioid overdoses since December 2011.
Guardians of the Streets – Founded in 2020 amidst the global pandemic with one fundamental goal at its core: to bring light and hope to those who are struggling with addiction, mental health, and homelessness. Through the dedicated volunteers and donors, Guardians of the Streets is able to deliver critical personal necessities, opportunity, kindness and comfort to some of our most vulnerable community members.
Boys & Girls Club of Plymouth – Cultivates a safe environment where kids ages 6 to 18 can participate in a variety of activities before and after school. Offering what young people need to thrive– adults who respect and listen to them, constructive activities that exercise physical and mental strength, and a safe space to be themselves. With the support of local community members, the Boys & Girls Club of Greater Plymouth can continue to offer before and after school support for families near you.
Whitman Council on Aging - The local non profit that ensures adults over 60 have access to the information and resources they need to maintain an independent life. From Public Benefits Applications, meals and nutrition programs, transportation services and health/wellness and fitness programs to educational programming, social activities, civic engagement and volunteer opportunities, the Council on Aging is a senior center open to older adults and their families.
As a community partner dedicated to investing locally, North Easton Savings Bank has previously run five similar campaigns supporting their local communities. Past campaigns and winners are highlighted below:
Campaign #1
Taunton Area Community Table
Coaching4Change
The Literacy Center
West Side Benevolent Circle
Plymouth Area Coalition
Easton Wings of Hope
Campaign #2
We Do Care
Plymouth Task Force to End Homelessness
School on Wheels Massachusetts
Brockton Neighborhood Health Center
Community VNA
Nathan Hale Foundation and Three Harts Farm
Campaign #3
Animal Protection Center of Southeastern Massachusetts
Shane Gives Thanks, Inc. Food Pantry
MassHire Greater Brockton YouthWorks
Habitat for Humanity of Greater Plymouth
Sunshine Farm Sanctuary
Attleboro Area School to Career Partnership
Campaign #4
Winslow Farms Animal Awareness
New Hope
Hugs for Mito
Halifax VFW
NeighborWorks Housing Solutions
South Shore Community Action Council
Campaign #5
Smokey Chestnut Farm
The Arc of Bristol County
P3 Foundation
Natural Resources of Easton
Heidrea for Heroes