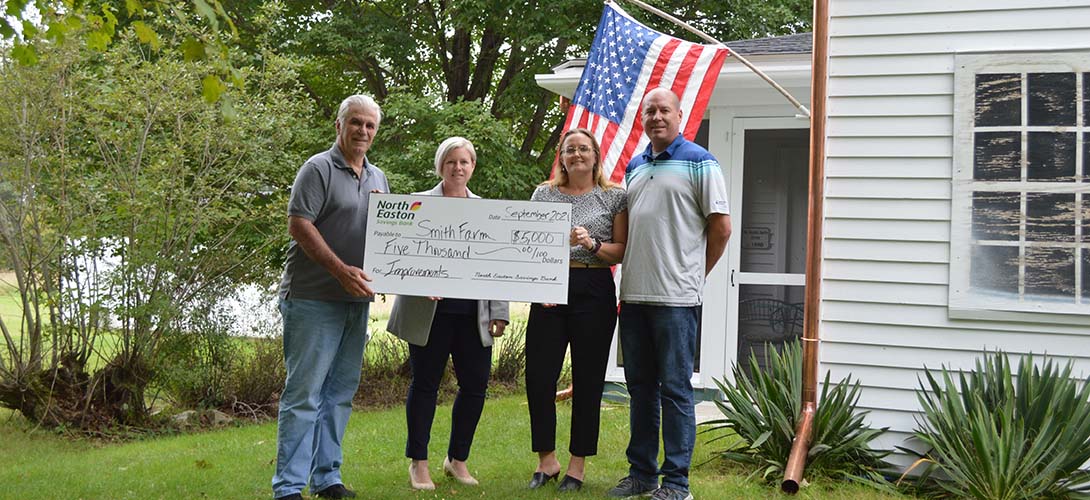 Smith Farm reaches fundraising goal for much needed improvements
The recent Smith Farm Challenge was a tremendous success, raising more than $17,000 to match the generous challenge grant of $15,000 by board members Chris and Marie Kelly. As a supporter of all things local, NESB recently donated $5,000 to the farms challenge campaign. The donation by North Easton Savings Bank helped Smith Farm exceed their goal, and makes it possible for Smith Farm to install the much-needed septic system. The work is slated for early November by Lucas Murphy of Watercourse Solutions, Inc.
After the installation is completed in November, Smith Farm will proceed onto the final steps of renovation in Phase III, the interior rehabilitation. Please stay tuned to their progress by visiting their website at www.smithfarmheals.org or their Facebook page at facebook.com/SmithFarmAtBorderland.
The Smith Farm Board of Advisors thanks their generous friends and supporters in this campaign. They are grateful to The Christine Loeber Foundation, the Inner Spark Foundation, Robert & Maura Turner, Fran & Marjorie Kelly, Moreau Hall Elementary School, Dan & Chrissy DeLoughery, Devin Ingersoll, Dan & Kimberly Wheeler, Robert & Aileen Newton, and Richmond Castano for supporting this very important milestone in the renovation of Smith Farm.
Pictured left to right: Rich Eastman, Smith Farm Executive Director; Courtney Palm, NESB Vice President, Marketing Officer; Marie Kelly, Smith Farm Vice President; and Chris Kelly, Smith Farm Building and Grounds Director