Upgraded Digital Banking Experience
We are excited to announce the launch of our newly designed online and mobile banking platform. On July 12th, you will be automatically upgraded to the new digital banking experience.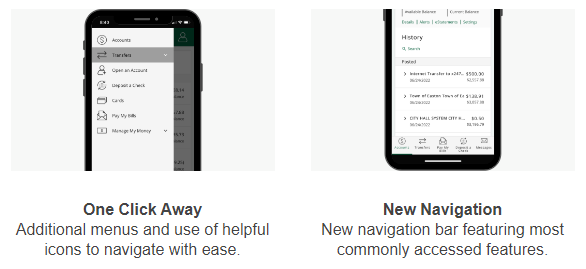 Additional highlights to note about the updated experience include:
The available balance shown on the account summary page includes any additional overdraft protection and courtesy overdraft available to you. Please note you will find your current balance displayed on the specific account summary/detail page.
My Profile menu on mobile and desktop includes links to additional features and options.
You now have the option of dark mode for easier viewing and prolonged battery life.
Frequently Asked Questions
When will the digital banking upgrade take affect?

The digital banking upgrade will go live on Tuesday, July 12, 2022.

Will my Quickbooks/Quicken connection be affected?

There is a potential one-to-two-day delay for Quicken/Quickbooks data transmissions. This will only occur during the upgrade window of July 12th – July 14th.

Will I be able to use "Dark Mode" screen settings?

Yes, the upgrade includes "Dark Mode" capabilities however you may incur viewability issues on the Manage My Money page when using "Dark Mode" screen settings.

Will I be able to print my statements from the NESB app?

At this time, statements are only printable by using a web browser interface. The printing functionality is available when logged in to online banking via mobile browser, desktop or tablet.

Will I be able to log in to online banking from my saved url?

Please delete any online banking saved/favorited browser urls and log in directly from the North Easton Savings Bank homepage. If you experience any issues accessing the site, please delete your browser's cache and history to remove any saved data.

What is the difference between available balance and current balance?

Current and Available Balance can be viewed by selecting the account in question on the Account Landing page. Available Balance includes your deposit account balance, less any pending transactions. Please note, your Available Balance will also include savings link balances, overdraft privilege, and overdraft line of credit, if applicable.

Will the upgrade work with all browsers?

The upgraded site will be accessible through all browsers, except Internet Explorer.
As always, we are available to answer any questions you may have. Visit our contact page to chat with a banker, connect with a branch, or make an appointment at a time that is most convenient for you.